'74 Cutlass Salon
My Gallery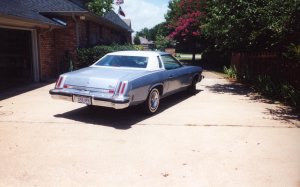 IN THE BEGINNING
Written January 31, 2006
This is my 1974 Cutlass Salon. When I graduated from Texas A&M in May of 1974, I promptly went out and purchased a triple black 74 Olds Cutlass Salon. I literally drove it off the showroom floor of Henry Butts Oldsmobile in Dallas.
It was equipped with power steering and brakes, air conditioning, power windows, power locks, electric trunk release, AM/FM Stereo, and a Turbo 400 transmission hooked to a 455. Got 10 miles per gallon. I took good care of the car, with it being garaged much of the time. I decided to begin restoration on it in 1989. I had it stripped and repainted black sans the vinyl top. All the interior needed was new carpet. I also had the trunk carpeted. A machinist/mechanic friend of mine went through the transmission, adding a shift kit and the full clutch packs. He added limited slip on the differential and changed the gear ratio from the factory 3.42 to 3.08. He also built the 455 with a mild cam. I was ready to roll. I told him no drag racing, just wanted to be able to blow by people on the road.
I drove it for about two years and decided I needed more power. My buddy died of brain cancer in the middle of this project. I had another friend pick it up. I had a professional engine builder of the race car kind put this one together. He called and I went by to pick it up and deliver it to my friend, who began the installation process. He called and said to come by on Saturday. I could help him finish up and we could start it. I got to the shop about 9:00 AM. I noticed the power company outside, and it appeared they were unhooking power from the shop. Then I looked above the garage door and noticed that the very old dark red brick was blackened. I walked into the garage and my car was sitting there toasted with part of the building's flat roof on top of it.
I turned around and left. I did not speak to anyone. That was my baby. Fortunately no one was hurt. The fire was caused by draining gasoline on a damp cool day in a garage with a concrete floor and concrete block walls. The vapors hit the ground, climbed the walls, found a space heater, and the whole place went up. Fortunately my buddy, his son, and helper escaped with no injuries. But I didn't. Mine were mental. He of course felt bad about the stupid mistake. He pulled the engine, transmission, and rear end out of the car and gave it to me. I went into mourning.
The good news is that he had garage liability. After some serious negotiations they gave me $15,000, which didn't cover the cost of the engine but I guess was reasonable considering this was a 1974 uncollectible model in 1999. Anyway, I stuck the salvaged parts in storage and went underground.
About 2001 I started browsing e-bay for a 1974 Salon. Guess what? There are none out there. They have all been crushed. In three years of looking, I saw one un-air-conditioned 1974 Salon that looked good, and another that had been "restored", complete with a color change. I subscribed to the Oldsmobile Club of America. No bites in three years.
Then in May of 1974, it appeared on ebay. A 1974 Olds Cutlass Salon with 72,000 miles located in Southern California. As I looked at the pictures under the hood all of the pieces were there that normally disappear on a high mileage car. It had the original paint, which was a silver blue, with a white vinyl top. The pictures of the interior were perfect. I called the guy and asked some questions. He had bought the car in 2003 from the original owner that lived down the street from him. The car had been garaged in the same garage its entire life, with the exception of the last year. The guy I bought it from kept it outside under a fabric car cover. He said he was selling it because his wife couldn't fit in it. That was a tantalizing thought!
I took a deep breath and hit the "Buy it Now" button, put $3,500 (I have learned to start with a solid car, and this appeared to be it) on my credit card, and made plans to head to the capital of the land of the fruits and nuts, Los Angeles. If this car was in the shape claimed, restoration would be very simple. I bought the airline ticket, packed some tools, flew out, and spent $70 on a cab to the hotel. It was in the middle of nowhere.
The plan was to drive it back to Rockwall, Texas. One doesn't need to be smart to own cars.
Met the guy at the hotel early the next morning. He was Hispanic, with "Big Mexican Wesso" on the back window of his truck. This might be a tad more interesting than I was looking for.
We went to his house, which was located in a nice blue collar neighborhood. All of the homes were well-maintained. In front of one was a palm tree and the car. Hmmmmmm.
Got out, looked around it, then again, opened the hood, looked around it some more, looked the inside over, then did a once over again. This car was all here. No apparent rust. Perfect interior. Motor started and purred just like I remembered. It even had some of the original hose clamps. Something had to be wrong somewhere.
The car was equipped with air conditioning, power steering and brakes, and a 350 with what felt like 2.42 gears. Let's go wrap this up.
I went inside and found out why his wife wouldn't fit in the car. Very nice lady, but there wasn't much she could fit into. The whole family was nice. We finalized the transaction and I left for home.
I did stop by the corner gas station to fill up with gas and air, and check the rest of the fluids. The plan was to drive straight through. Remember the quote about the relationship between intelligence and car ownership.
About an hour down the road I pulled over to check underhood. I had a couple of first class bubbles in the upper radiator hose. No problem. I pulled out a couple of hose clamps, clamped them down over the bubbles, checked the other clamps, then headed out again. If you look on an underhood picture you can see one of the clamps in the middle of the upper hose.
I was struck by how quiet the car was and how well it handled. There was no indication that I was driving a 30-year old car. But it didn't take long to remember the 10 mile-per-gallon part.
Got to Phoenix that afternoon. Even though it was May, it was warm in the desert. The air conditioning was taxing the cooling system so I shut it off. Although still warm, the temperature stabilized and the car kept on going.
My Dad's cousin Mildred lived in Phoenix. She had buried her third husband about 15 years ago and was now living with his nephew, his wife, and daughter. She was 96 years old and still volunteering at the senior citizens center three days a week. She gave up her car at 92, so she had to walk to the bus stop to go to the center. It had been 30 years since I had seen her so I stopped by to buy her lunch.
We went to Chili's. The waitress came up, introduced herself, and asked for our drink order. Mildred leaned across the table and in a very serious voice said, and I quote, "I want a drink! They won't let me drink where I am living, and I want a drink!" This gal was a gorgeous redhead in her younger days, and the three husbands, two of which she buried, should give you a clue. The request didn't surprise me. I asked her what she wanted. She told me to order for her, she didn't care.
I looked at the menu and ordered us the best margarita they had. Remember I am driving straight through. Also remember the intelligence observation. Anyway, they brought them out in shakers with monster martini glasses.
I seldom drink much in my old age, and never more than two a day. I probably average about three drinks a month. My favorite is an Oban straight up. Anyway, we are having a great time. She has always been fun to be around unless you were a kid. Had no use for them. We had a great time discussing family. However, I'm beginning to feel this drink and I'm not through yet. I look across the table. Uh-oh! She is polishing hers off. Great. I will be carrying this 95 pound, 96 year old woman out the door. I couldn't believe it. I am three sips away from wobbling and she is marching out the door! She was obviously in better shape than I was. I took her back home, got a huge hug, and headed back out for Rockwall. Slightly happier at the moment, but I figured the alcohol would wear off soon.
As an aside, I stopped by to see Mildred in March of 2005. She had ended up with pneumonia after a severe cold. Although she was recovered, she was visibly weaker. The spark was gone from her eyes. I knew she was dying. I got a big hug going out the door again, but she held on for a few moments. I came back to Rockwall, called her 95 year old sister (she works the New York Times Crossword Puzzle every morning, maintains two TV's side-by-side for her sports addiction, and subscribes to various sports magazines with an incredible capacity for statistics) and told her it was simply a matter of time. Two months later Mildred was gone. The good news was that the couple she lived with began giving her a martini every day at 6:00 PM several months before her death.
This straight through stuff will wear one out. Fortunately at 10 miles-per-gallon I stopped frequently. I drove through the night across the rest of Arizona and New Mexico. Somewhere in the middle of nowhere in West Texas the border patrol had set up a check point. I needed the break anyway. I climbed out of the car and began talking to an agent. They had the German shepherd working over a semi in front of me and told me they would get to me in a moment. He asked me what I was doing out there. I thought a second, then decided to tell the truth. I guess he believed me. He asked if he could look in the trunk, I guess for illegals. Having found none, he let me go. Meanwhile, I am nearly out of gas, it is 4:00 AM, and I haven't seen life for the last hour. He directed me a few miles up the road to a station that wasn't open but left the pumps on. I had to be on fumes when I got there.
Coming on in, about 7:00 AM again somewhere out in the middle of West Texas one of those 20 year old tires blew. Fortunately I had the original spare in the trunk. Remember the observation about car owners. I put it on and blew on into Rockwall. Got in around 4:00 that afternoon. Approximately 29 hours of fun. Running 70 and 80 miles an hour the entire way. But she was home and still running well.
The fun begins.